Strategic cooperationagreement was signed between SHENFU Group andSENSATECGmbH on 4th, December, 2018, and the conclusion of strategiccooperation was jointly announced. Helena Di-Heil, Chairman of SHENFUGroup,Kevin Tsao,CEO of SHENFUGroup, Dr. Stephan Huttmann, CEO of SENSATEC GmbH, andJingjia Yi, chief technology officer of SHENFU Group,attended the signing ceremony of strategic cooperation.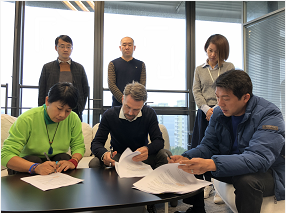 Signing ceremony
Through powerful combination, the implementation ofenvironmental protection strategy will be accelerated
According to the agreement,SHENFU Groupwill be the only authorized agent, the only technical user and the solebusiness contractor of SENSATEC GmbH inChina. Through strategicpartnership, SHENFU Group and SENSATEC GmbH will focus on environmentalprotection projects including soil and groundwater remediation, treatment of volatile organiccompounds and so on.
About SENSATEC
SENSATEC GmbH was foundedin 2005 with its headquarter located in Kiel,Germany. Serviceareas: soil andgroundwater remediation, microbial technology, sensor-based environmental investigation anddrilling technology. Having completed more than 300 successful remediationprojects, SENSATEC is now one of the leaders in the field ofenvironmental remediation.
Looking forward to the future
Under the backgroundof mutual fundamental interests and complementary advantages, both parties inthe partnership will do the best and work hard to realize their ambition, andit's sure that the advanced technology and high-quality projects will befavored by the government and other customers. We will spare no effort to be biggerand stronger so that we can make more outstanding contributions to thedevelopment of Chinese environmental protection cause.